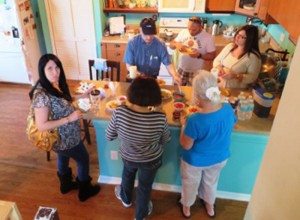 A couple of Sundays ago, Or Ahavah indulged in Spa and Schmooze Day.  Our very own Dr. Phil  talked about skin care and answed our many questions.  Two masseuses and a facialist offered spa treatments that were awesome and reasonably priced.  As we were waiting our turn on the spa table and chair, many of us gathered around a table filled with healthy but tasty food and drink offerings.  "What makes this Jewish," I asked, and someone quipped "eating good food!"  I agree that enjoying and sharing Jewish-style food with others is a way of experiencing Jewish identity, but I wanted something moreSo we sat in a circle and I led a Jewish meditation.  To be consistent with the spa day we had planned, I made sure to focus on relaxation, calm and peace.  But the spiritual technology that I used to induce an ever-increasing feeling and sense of relaxation was the idea and experience of "Light."  Light is present throughout our sacred writings, such as the light that G!d creates in the third line of  Genesis (not to be confused with the lights of the sun, moon and stars created in lines 16 and 17) or "in your light we see light" from Ps. 39:6,  just to mention a couple of examples.
Still, even with the sacred metaphor of "light," is what I led really "Jewish" meditation?  Do Jewish symbols and Jewish people make the meditation Jewish?  Yes, I think that they work to form the permeable energetic vessel of our meditation.  I think it is Jewish also because it encourages awareness of being in the Presence of G!d, of being present to the Light of G!d.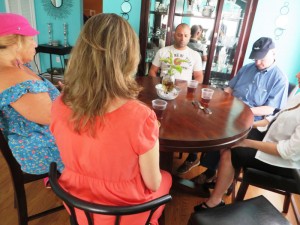 At the end of the Amida prayer, we find a line from Ps. 19:  "May the words of my mouth, and the meditation of my heart be acceptable in your sight, O Lord, my rock, and my redeemer."   During our meditation on Spa Day, we were open to being in G!d's sight and open to our indulgences being acceptable to G!d.  We were open to Divine Presence within us and surrounding us.  We were living the line from Psalm 19 with hearts moved by deep comfort and enjoyment, and with awareness of being present to One!.
We know that there are many ways to live out this line from Ps. 19, such as doing mitzvot with consciousness and praying with kavannah..  But ordinary pleasures of everyday life can be part of our G!d consciousness too.   With awareness, having spa treatments and eating dark chocolate can lead us into the Light of Gd as well!
Shalom for now,
Rabbi Deb