Reb Zalman, z"l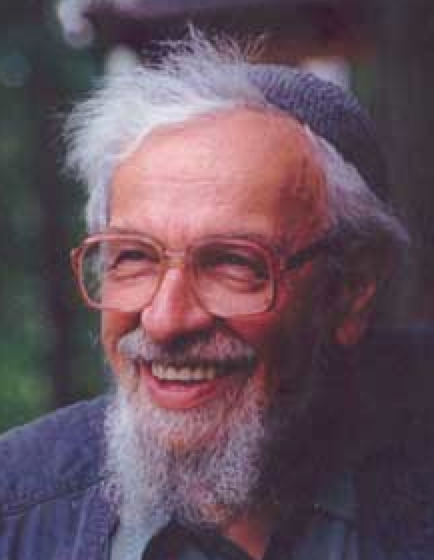 Rabbi Zalman Schechter-Shalomi, z"l, died last week and, for me, his departure brought an end to an era of great rabbis who truly care about the people.  This is not to say that there are no longer any great rabbis who care.  Reb Zalman cared for people in ways that seem unique to the rabbis of his generation who came to the United States carrying with them the lights of a Euopean Yeshivah and Chassidic background.
Reb Zalman was not my primary rebbe.  His colleague Rabbi Brod, z"l, whom we all called "Rabbi," was my rebbe, my friend, the one who subtly taught me how to reconcile my soul to something better, and the one who taught me the heart of a rebbe.  He taught that a rabbi should be driven by the need to find flexibility to meet a person's needs if traditional avenues are, for whatever reason, closed.  Reb Shlomo, another colleague and friend of Reb Zalman's, had boundaries so thin that he was able to help a stranger as if his life depended on it.  These are the three rabbis who influence me beyond measure.
Reb Zalman made openings in the Jewish world where spiritually hungry travellers could rest and maybe even take up residence.  The most valuable lesson that I learned from Reb Zalman was a different expression of something precious that I learned from Rabbi Brod.  Reb Zalman taught about retrofitting changes that we make as rabbis and spiritual leaders to traditions and Jewish laws that have developed over thousands of years.
He gave over his analyses of Paradgm Shift through the centuries to anyone who would listen or read.  This enabled me to see that Judaism has been changeable and has to have flexibility if it is to respond to the changing needs of different people at various times in history.  It also gave me a leg to stand on when confronted by unsympathetic others about "what is Jewish."
I remember reading an article about Reb Zalman that questioned whether he was a tzaddik or a renegade.  I suspect that Reb Zalman might have answered that he was neither, but that he was somewhere in-between.  It was not the only time that Reb Zalman's teachings or positions raised an eyebrow or a hackle in the Jewish world.  At the last Ohalah he spoke to the group about supporting each other as we develop the newer paths identified by many as Jewish Renewal.  He  commented on how lucky he thought we were to have one another.
It reminded me of Rabbi Brod who had no rebbe after his father who also was a rabbi died.  Rabbi Brod used to say that G-d was his rabbi and his wife Freda would wryly quip that the relationship was very personal.  I imagine that it might have been the same for Reb Zalman.  His courage, his faith, his willingness to loom large in face of criticism and to constrict his presence at times when his students needed to grow all inspire and strengthen me to do work to which I feel called.
Reb Zalman, the founder of Jewish Renewal, made it possible for me to become a rabbi in a number of ways.  The ALEPH rabbinic program allowed me to keep my home base in Tampa with my family and to study long-distance.  He cared about spiritually nourishing his students, not just by feeding us but by showing us how to mine the rich soil of Jewish and other mystical traditions.
He was a prolific writer and I remain a student of his works.  On the day that he drew his last breath I had just received one of his books entitled Fragments of a Future Scroll, Hassidism for the Aquarian Age.   Every time I look at the book's title, I feel supported in my non-traditional, experiential and experimental work, and feel urged, with mindfulness of so many teachings from Jewish tradition, to study and forge ahead.
I did have a few personal encounters with Reb Zalman.  My favorite memory was probably the least eventful.  As he passed me at an Ohalah gathering, he looked at me and said "G!d bless you!"
Reb Zalman was a rebbe of blessing, whether he uttered it, manifested it through his teachings, or gave it through his generous spirit toward the people.  Reb Zalman involved heaven in his works and taught us to return something with holiness.  During the past few months I noticed that he would sign off on his posts by writing something like:   blessings in the ways that you need them," or blessings in the ways that will do you the most good.  How awesomely incisive is that!
Reb Zalman's blessings through his teachings, his friendships and his accomplishments persist with us today.  May his memory and his works always be a blessing in the ways that each one of us needs.
L'shalom for now,
Rabbi Deb